!!) I'm currently looking for sponsors who would like to financially contribute to the book project. Please get in touch to pentraveller@gmail.com if you are interested!
Capturing people's life and emotions in to pen and paper is a passion of mine. I've always longed to fulfil my dream of being an independent artist.  I wasn't sure where to start, scared, doubted my abilities, and didn't think my art is worth anything to achieve that dream. So, I've always viewed my art as a hobby and nothing more than that. Rather than just sitting back and limiting myself with self-doubt, I decided to give it a shot.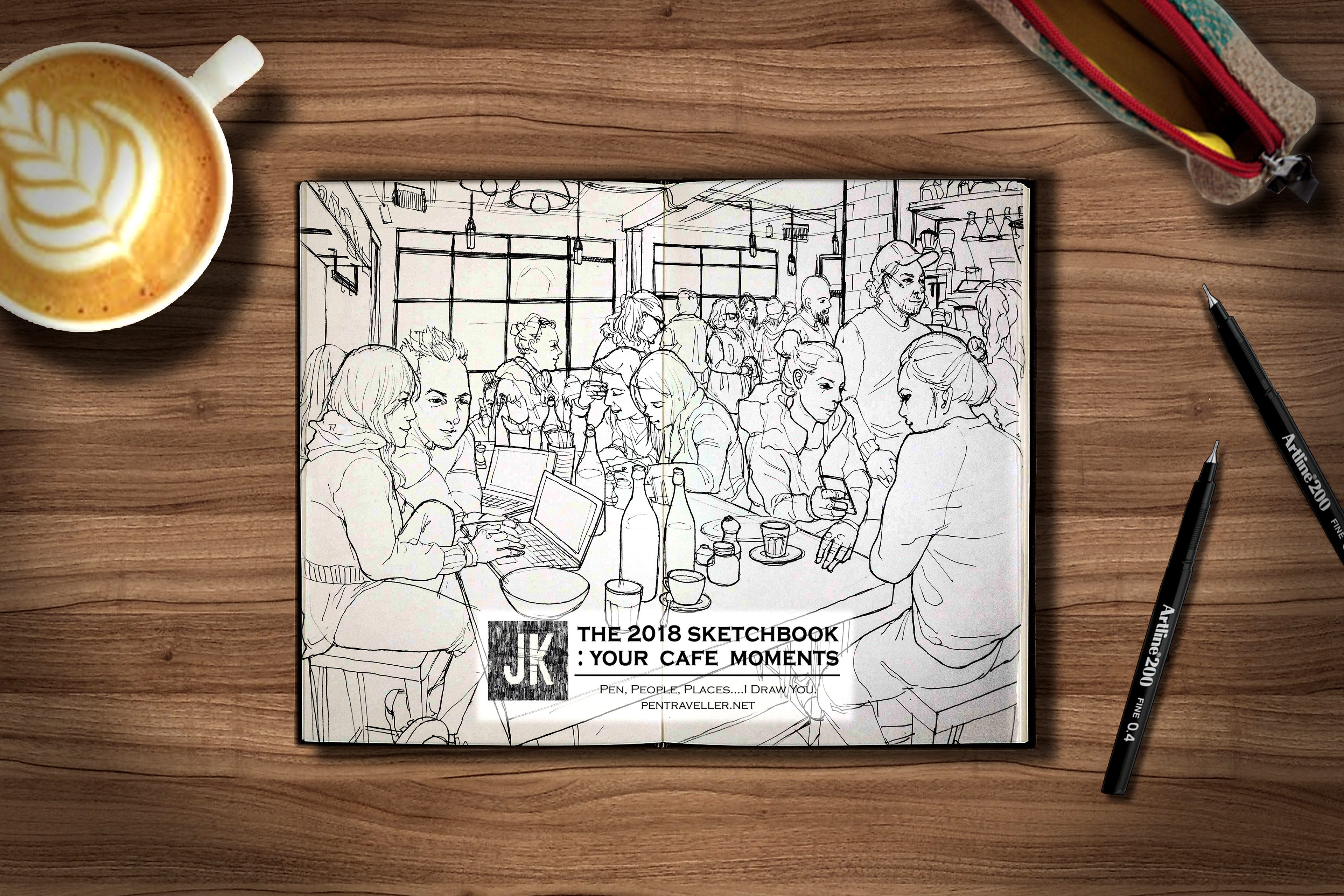 The 2018 sketchbook: your cafe moment
is my first project as an independent artist
capturing Melbourne's cafe scene.
I'm planning to do one project every year and publish the project as a book or doing an exhibition. 
This year, I decided to do the project that shows Melbourne's café scene and people
. The reason I chose to draw Melbourne's café scene is because its one of charm that shows Melbourne's character very well.
To do this,
I'm going to pick 100 cafes in Melbourne
, visit them and capture the charm only those cafes have. How I chose the cafes is based on 1) an eye-catching interiors 2) has a great local vibe 3) hidden gems. To find out these places, I decide to do collaboration with Melbourne people. People can give me a direction where to visit or helping me to find hidden gems or just come to café where I visit and join in my drawing.  So at the end, everyone joins in this project and make our own special book.  
Once I visit 100 cafes, Im planning to do publish a book.
The book serves many multiple ideas such as:  
 1. A collaboration book
: The book is a collaboration. I really wanted to make this book something very unique, so everyone can be part of it. It is not only a drawing book or an art book. This is a book for the people to collaborate and build together. 
2. A coffee table book
: The book will showcase Melbourne's café scene and culture. A little memoir of our scene in Melbourne placed on your own coffee table.
3. A guide map book
: Some of these places are already well known, but some may not be too familiar to some of you. This book can be a unique way to understand the vibe and find out hidden gems. 
++++++  PROJECT UPDATE no.1 ++++++
The '2018 Sketchbook' project had been a completely personal one. For a few years now, I had set a personal goal for myself to finish 100 cafe drawings. It has been an interesting challenge, and had been a really effective motivation to push myself forward and help me progress.
I have now completed more than 100 drawings of 96 different cafes. So, it is safe to say that I am at present very close to my goal and on the home stretch, so to speak.
As I go through the project, I've met so many different people - cafe goers, coffee enthusiasts, baristas, cafe owners, and so on. Without realising it, I've found myself learning more and more about Melbourne's cafe culture and coffee. I've grown to understand why people are so passionate about helping the farmers that produce the coffee beans, thinking of ways to reduce cafe-related waste or training their palate from coffee tastings.
In reviewing my work so far, I've found some I'm content with and some I'd like to redraw. But it got me thinking - is the point of this project simply to go through a list of things? Is it not to improve something about myself as I go on and capture that learning experience?
I realise now, that the goal of finishing 100 cafe drawings is not anymore relevant to my current purpose. I want to capture the essence of Melbourne's Cafe Culture. 100 is only a number, but it is not necessarily the right concept if what I want is to understand the culture. There are so many interesting things within the cafe culture that is not yet very visible to the general population. I feel that my project should be able to help people discover these themselves.
As a result, the project will be taking a more robust concept. It will and should be an art book that compiles of my artwork, regardless of the quantity. But it should also evoke the sensibilities of the culture rather than just a pile of cafe drawings. So ideally the drawings will also be framed with articles and opinions written by locals who are either working in the industry, or simply enthusiasts. 'Captured on Paper' sounds like the perfect summary of what I want to see this book does to Melbourne's Cafes.
In trying to achieve the right outcome of the project, I have now partnered up Inedible, a not-for-profit publisher with a focus on F&B culture and aim to support and acknowledge the farming communities behind the scenes of that very culture. The core team will consists of designer Vina Nurina, content editor Enrico Utomo, and of course yours truly. The idea is to also collaborate with locals, so the team should grow as time goes on.
I hope this is a direction that you all can relate to, and if you have any questions - please get in touch anytime!
-
Please keep eyes on my instagrm for the updates!
instagram.com/pentraveller